2.1 Equipment description
The equipment adopts a sleeve-type circulation structure, with steam, hot water, and cold water as the heat exchange medium, which can be used for continuous sterilization of materials with high solid content and high viscosity. It can be used directly with electronic scale weighing aseptic large bag filling machine.
2.2 Application fields
It is suitable for all kinds of fruit and vegetable clear juice, puree, concentrated juice, fruit jam, honey, syrup, popping boba, pulp, fruit grain , etc. (≤ 10 mm) with large particle content (≤ 70%) sterilization of comprehensive products.
2.3 Technical parameters
Production capacity: 1-5 T/H; Sterilization temperature: 95-120℃; Sterilization time: adjusted according to different materials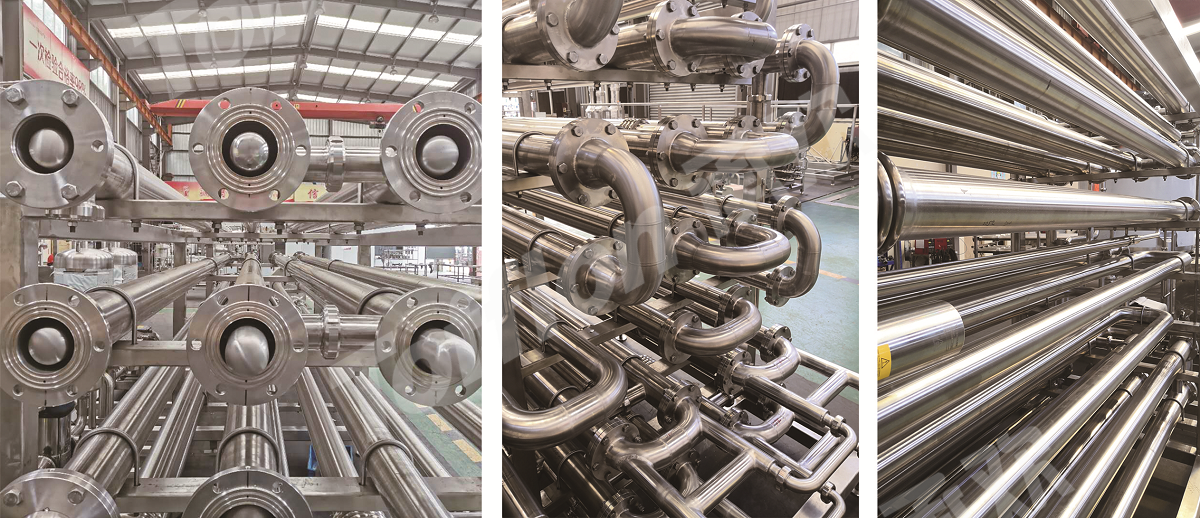 2.4 Equipment features:
1. The whole machine is mainly made of high-quality stainless steel, and all material contacted parts are made of SUS316, with safe and reliable quality;
2. High degree of automation, with automatic PLC control system, convenient operation, production process can be automatically controlled and recorded;
3. Equipped with pump valve, electrical components, and actuator components are international famous brands, the system control response sensitivity is high, the operation is stable and reliable, and the failure rate is low;
4. With CIP self-cleaning system, which can realize effective online cleaning and sterilization (CIP and SIP);
5.The structure of the whole machine is simple, and the maintenance and repair are convenient, and the whole machine meets the requirements of food grade hygiene.